The Best Mountain Bike Trails in Breckenridge
Mountain Bike Breckenridge! The "Fat-Tire" destination. Breckenridge was named one of the top 10 great places to take the kids on a bike ride by USA Today. The Town of Breckenridge is always looking for ways to improve and expand their recreation territory. With the help of friends such as the Forest Service, Friends of the Dillon Range District & Friends of Breckenridge Trails more and more designated and maintained trails are opening up to bikers and creating connections from one side of Summit County to the other. Biking in Breckenridge has never been better or easier.
Boasting countless miles of mountain biking trails for all abilities, world-class mountain bike events and clinics through-out the summer, Breckenridge is honored to be designated a Gold level Bicycle Friendly Community by the League of American Bicyclists.  Breckenridge is proud of the designation and always working hard to improve and maintain that level of cycling facilities, educate cyclists and motorists on bicycling safety and responsibility.
There are many excellent biking trails in Breckenridge. One of the unique aspects of Breckenridge is that most of the trails can be accessed from town.  See the Breckenridge Summer Trails Map,  a great resource for all abilities (courtesy of the town of Breckenridge). Each trail on the Breckenridge Summer Trails Map leaves from in-town trailhead.
Spotlight Rides:
(It's a good idea to check trail conditions before you ride.)
Betty's> Lower Flume> Mike's> Upper Flume Loop – Early Season, 6.96 Miles, Moderate to Easy.
Boreas Pass Climb to the Top of the Pass – Easy, 10 to 20 mile, out & back, paved & dirt.
Breckenridge to Frisco on Bike Path – Easy, 8 mile, out & back, paved.
B&B,Minnie Mine, X10U8 loop – Easy to Moderate, 2.4 mile loop, wide trail & single track (June)
Blair Witch – Easy to Moderate, 4 mile loop, single track, curves, switchbacks
Carter Park: Sallie Barber: Upper Barney Ford: Barney Flow Loop – Easy to Moderate, 9+ miles, road, single track, wide trail, climb.
Check out the Road Rider page for Summit Biking link to great Road Rides.
Make it a day trip or a weekend getaway, Breckenridge has exceptional places to Eat.Drink.Sleep and world class mechanics who will fix up, shape up or update your ride!  Most importantly, there are many park and riding options for the younger members of your family. Check out the Kids Only page. Dedicated to all the women riders, the Bikenridge Climbbetty page!  Breckenridge is a treasure chest of amazing resources for women riders of all abilities and ages. Mountain Bike Mondays are group rides for women, The Cycle Effect which is empowering young women through mountain biking and VIDA MTB Series with a local connection and there is more!  Take a few minutes to read the amazing account by local rider and Adventurer of the year 2014, Shannon Galpin of her experiences helping women in Afghanistan – Girls on Bikes – A Revolution on two wheels in real time. There is so much more that we can't fit it all in … each month, Bikenridge.com will switch out our guest blogs, spotlights and showcase programs for more cool Biking stuff in Breckenridge. EVENTS – Check out what's happening in Breck!
I was enthralled by the article below. Read about the story and history behind the collaboration, drama and local players who came together to create Breckenridge's prize alpine single track.  An amazing read and stellar photography by two local talents. 

Peak Season By Devon O'Neil / Photography By Liam Doran/Bike Magazine, March 2015 Issue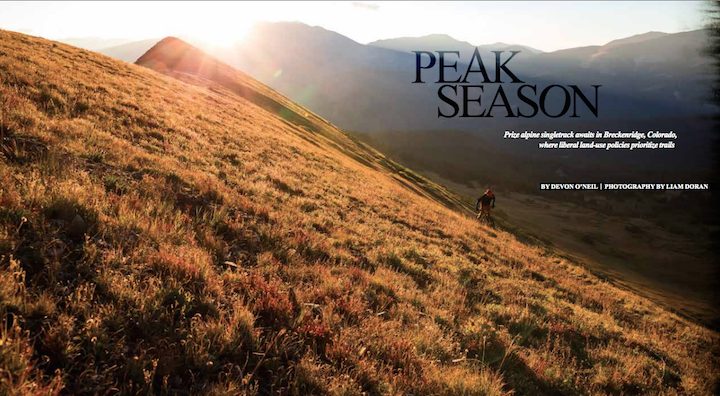 "As my buddy Sam Brede says, "the best part is no cars, dude. You never have to get in your car.  This whole valley is a trailhead." What's more, because the Colorado trail and the Continental Divide Trail pass through town, you could ride to Denver, Durango or Mexico if you wanted to.

All of which is bitchin'. But here's the thing about Breckenridge's trail network -and, for that matter, the entire mountain-biking scene. It did not just happen, as it seems when you ride here. In fact, you could argue the collision of people, land and money that created the network makes a better story then any of the awesomeness it has enabled since." Read the full story by Devon O'Neil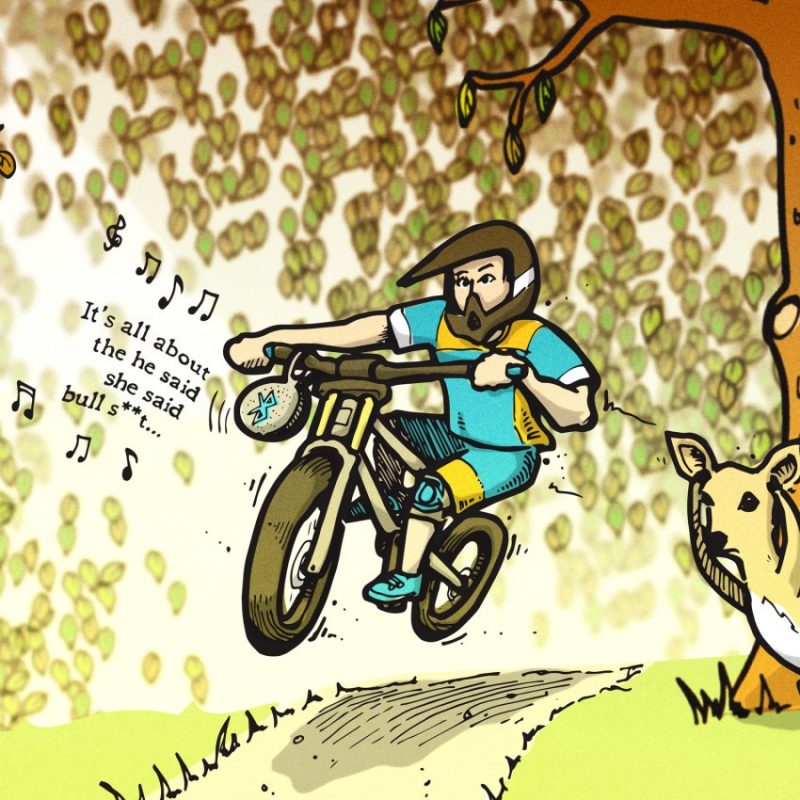 Is it too much to ask for a little serenity, people?  As a city dweller, escaping the city limits for a mountain bike ride in the woods is one of my greatest pleasures… Read More by Eben Weiss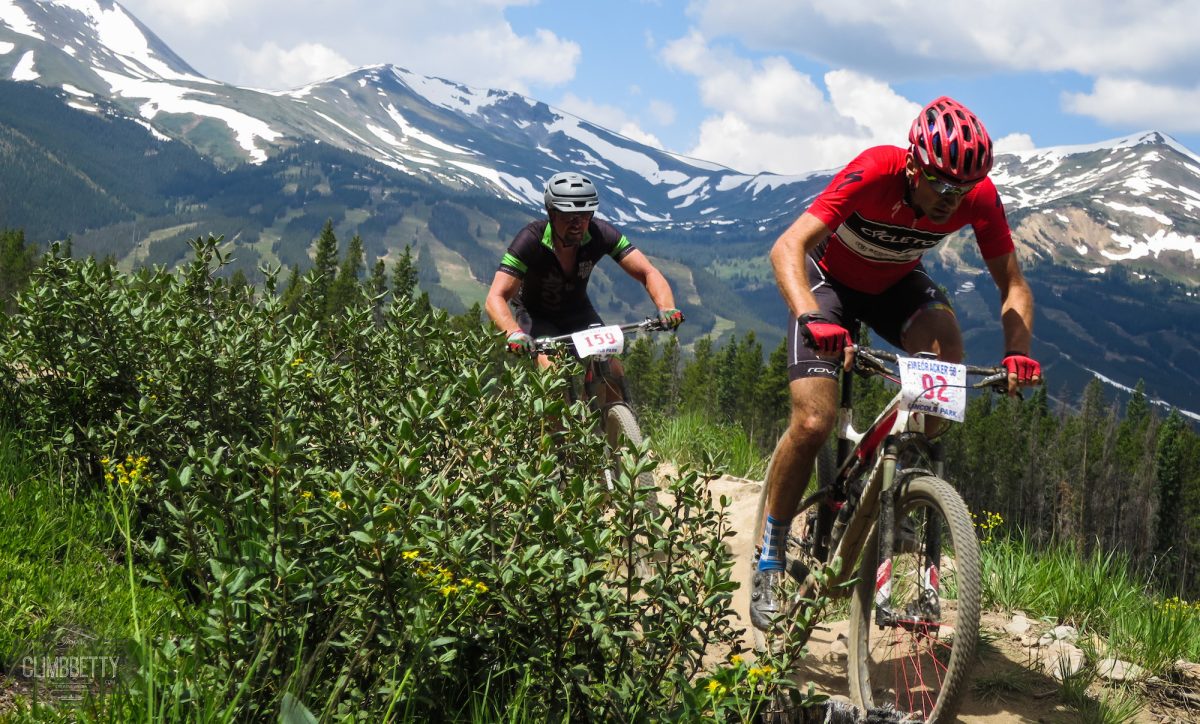 IMBA Trail Etiquette preaches "be cool on the trail" and should apply not only to mountain bikers but all users; runners, hikers and dog walkers. Start the conversation; How do we keep harmony on the multi-use trails… read more