A Summer of Events … a lifetime of memories.
Breckenridge, Colorado has a World Class lineup of Summer events!
Wave: Light+Water+Sound – June 1 – 4th – Make it an early June weekend in Breckenridge! The kids will love this!  I'm excited to see them experience the art, the music, and the waterfront installations! Super cool!
Breck Bike Week – June 21 – 25th –  Breckenridge is packing in some of your favorite activities and fun this weekend.  Mountain and Road Bike demos, Breck Cruiser Ride, Strider Adventure Zone, Bike-in Movies and MTB Skill Clinics.  So much to do!
The 4th of July – 2017 – Celebrate Independence Day with lively entertainment, free activities and dynamic family fun. Breck's Independence Day celebration kicks off with a 10K trail run and continues throughout the day with The Firecracker 50 mountain bike race leading the vibrant Fourth of July Parade on historic Main Street, July Arts Festival, live music, kids' activities, concerts and so much more. End the night with the National Repertory Orchestra performing a patriotic concert at the Riverwalk Center followed by fireworks at 9:45pm.
Breckenridge International Festival of Arts – August 2016 – BRECK CELEBRATES WITH MUSIC, ADVENTURE, AND CREATIVITY. Inspired by themes of environment and mountain culture, the 10-day festival brings together a variety of performances, exhibitions, screenings, workshops, talks and surprise collaborations, with an eclectic mix of music, dance, film, visual arts, open-air spectacle and family entertainment.  There is so much more … check out breckcreate.org/bifa. 
Colorado Classic – Breckenridge –  Aug 11th in Breck, August 10 – 13 a world-class and international field of professional, men & women cyclists will race more than 300 miles in multiple, fan-friendly circuits, combining the exciting elements of each day's start and finish into the same location. The Colorado Classic will also feature two days of professional women's cycling, beginning in Colorado Springs on Aug. 10 and continue on Friday, August 11 in Breckenridge.  In Breckenridge, the women and men will do the same exciting, fan-friendly circuit course that Breckenridge fans come to expect.
The USA Pro Challenge In Breckenridge for 5 years running!
I may be a bit prejudice, but I think Breckenridge puts on one of the best Pro Challenge parties! The ancillary events of the day bring in the crowds.  Fans traveled from all over the country be part of the excitement. The Breckenridge Local Organizational Committee (LOC) starts planning in January and with the cooperation of local sponsors & business owners, plans come together to entertain, dine and lodge the crowds of cycling fans. Read More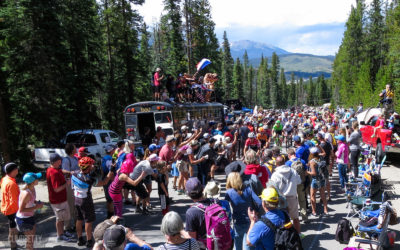 "Everyone's going to remember Colorado Classic of 2017. Everyone's going to remember the Breck stage. We're going to remember how much it hurt." - Lawson Craddock.  Read the entire article HERE. Breckenridge had a great showing on August 11th for the inaugural Stage 2...