UPDATE: September 2018
It's hard to believe, but September arrived today in all of its crisp and moist glory.  With the recent rain, the trails are ripe for riding with "hero" dirt for all.  I am fighting the sense that summer is coming to a close.  I feel like I am just hitting my stride and the more I get out there and enjoy my bike, the trail and the company, the better I get.   I suppose that is true for most things, but for me, it takes personal experience to really recognize the significance of repetition and routine.  As a young person, it may not be so obvious that going to a daily practice not only benefits you physically but also can significantly increase confidence and ability.   A few weeks ago, I had the opportunity to ride with a few of The Cycle Effect ladies and their Coach, Carla Decker. I was most impressed by the shift in enthusiasm as the ride progressed. Before the ride, the girls seem distracted and chatty about other things of interesting in their lives, but as the ride progressed they focused more on the ride and then a tiny bit of friendly competitiveness and passion percolated to the top.  Carla encouraged each girl to lead and with that little bit of pressure, the girls stepped it up and had some break-through moments. I've been a big supporter of The Cycle Effect since inception. I believe in its mission to empower young women through mountain biking to achieve brighter futures and build stronger communities.
_______________________________________
I got all choked up when Jaime & I had coffee to talk about The Cycle Effect.  
It's tough to be a kid and being a girl in high school can be super challenging.  Jaime and the Cycle Effect have a mission, to enhance the lives of young women through mountain biking and to empower them through mentoring and education.
"We all like to laugh while we sweat," says Jaime. "We'll be the ones working hard at getting fit, laughing, sweating, succeeding, and wearing cool cycling shoes."  Jaime Brede, Summit County Program Manager, takes athletics seriously, but her words of encouragement are delivered with a smile.  Jaime is a Professional Xterra Triathlete & Coach, Mountain Bike Champion and a huge supporter of empowering women in mountain biking.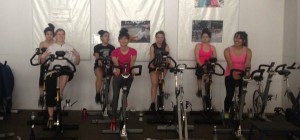 "As their coach, I cannot possibly imagine a better job than sharing my passion of fun and fitness with these girls. Watch out for Gabby, Alee, Daniela, Paloma, Zoe, Erani, Beca, Aurora, and Makayla on the Summit County trails this summer.
As I get to know these girls, I am learning WHY they want to try mountain biking this summer, and WHY they are making the commitment to prepare for their new sport when the trails aren't even dry yet."
They want to be challenged.
They want to learn something new.
They are disillusioned with team sports .
They want to spend time exploring outside.
Jaime has been working out with this group of 8-10 teenage girls (ages 14 -17)  for about three weeks now. They meet two times a week at the Breckenridge Recreation Center and are doing everything from running laps, lifting weights, circuit workouts, and spin bike intervals to get ready for the upcoming bike season.
These amazing girls are the inaugural members of The Cycle Effect/Team Summit mountain bike team.  "I remind them constantly that the workouts we are doing now are going to prepare them for impending saddle time, and If you think THIS is hard, wait until you get on the bike! Whenever I remind them of this, I see them grit their teeth and launch into the next interval."
For more information check out The Cycle Effect or contact Carla Johnson at cjohnson@thecycleeffect.org