It's had to believe that September is here. I feel like I say that every year with a sigh, but really, in Breckenridge, our Indian Summer is just as good as our Summer, if not better.  The kids are back at school and crowds linger only on the weekends. Morning rides require a jacket, but it warms up quickly with deep blue cloudless skies … well, most of the time. The probability of snow increases as we get deeper into the month and, of course, the Aspen Trees begin to turn bright hues of gold and red. It's so pretty! Get out in it to see the Best Fall Colors.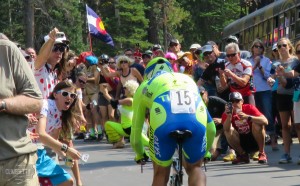 The 2015 USA Pro Challenge – Breckenridge Stages inspired my recent interest in road riding. The Stage 4 Finish and Stage 5 Time Trials in Breckenridge were awe-inspiring and unforgettable.  The incredibility fast and fit pro men and women were so fun to watch and the Moonstone crowd was insane!  We can't forget the local favorite, Funkadelic Pond Crossing.   
With that, road riding on our incredible rec path system has been the ride-de-jour of late.  This is a great option for my boyfriend and me as we can ride together at a pace that is good for both of us.  The loop around Lake Dillon is fun with great views and a good effort is required up Swan Mountain.  I was also pleasantly surprised by the beautiful landscape riding up Vail Pass.  Great ride, great workout!
What's Happening in September?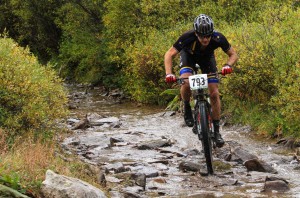 On Sunday, September 6th, the best-kept secret in mountain bike racing, The Fall Classic presented by the Lincoln Park at the Wellington Neighborhood. It's going to sneak up on us quickly, but get out there if you can. It's a great course with gritty climbs and screaming descents, a creek crossing, and fun single track. It's the BEST VALUE of the year with good food, cold beer and lots of giveaways! 
The 40th Annual Gathering at the Great Divide Art Festival will be in town, September 5 – 7th. View exhibits from over 100 artists with a wide range of mediums including photography, wood, glass, jewelry and pottery, just to name a few…
Mögen Sie Bier? If so, then don't miss the 21st Annual Breckenridge Oktoberfest, September 11-13th, The largest Oktoberfest in the mountains. The streets are packed with three dozen genuine German cuisine and brew vendors and excessive Bavarian lederhosen dancing. Fun for everyone! 
Spotlight!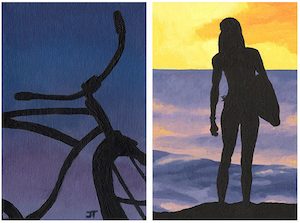 Artist.Dreamer.Adventurer. Julia Taylor is a local artist who is inspired by adventure and nature.  I like the colors, action and yet, simplicity of her work.  
Unique for sure, but weird? Bicycling Magazine spotlights Breckenridge's Ullr helmets in it's Cycling's Best (and Weirdest) Prizes and Trophies post. Ullr, Ullr! 
Ezzynator! An entertaining teen-to-teen interview between high school students, Carly Cummings (Soccer player) and Ezra Smith (double Nordic & Mountain Bike Champion).  This will make you smile. 
As always, thank you for taking time out of your busy day to read the Bikenridge Useletter!  We want to hear from you! Any feedback or suggestions are welcome and appreciated.
Feel free to share this useletter with your friends using the links below! 
Enjoy the Climb!
Courtney
— Everything Biking in Breckenridge 🙂
Disclosure: Some links in this email are affiliate links meaning, at no additional cost to you, I may get a commission if you make a purchase. Thanks for your support in this way!