Trail Etiquette, Education and Overcrowding.  On most summer weekends, just as the sun begins to shine on the valley floor, a steady parade of cars descend on trailhead parking lots in Breckenridge. It used to be only during peak season, but 2020 saw a significant increase in visitors year-round.
The visitors likely come from around the country, but most are classic Coloradians with spendy Kuat bike racks on shiny Audis, Teslas, large SUVs, pickup trucks, and the occasional "my bike is worth more than my car" folks. They are here for a forced-family-fun hike with the kids and dog, a multi-hour bike ride, or just a relaxed trail run with their favorite partner. They are in Breckenridge to enjoy the fresh air, open space, and incredible trail network that within a few heart-pounding minutes transports you to the wide-open spaces of the backcountry.
French Gulch in Breckenridge is one the most popular recreational destinations because of its easy access to trails and proximity to downtown Breckenridge. In September 2020, the parking at the B&B Trailhead was overflowing into French Gulch Road, even with the newly extended parking lot. Local officials report that the B&B trailhead saw a 30-40% increase for June – August, and August – October.
A little history
Not long ago, the B&B trail was known as "The Bomber" trail. Rumor has it that one of the more radical residents of the small collection of B&B mining cabins set up a booby-trap to blow up authorities after he was given notice to move out. Before the Town of Breckenridge acquired the property in the early 2000s, French Gulch was populated with eyebrow-raising, basic, rustic, primitive mining cabins with non-conformist personalities and also locals personalities in their younger years looking for cheap housing and a quiet, private setting away from the hustle and bustle of town.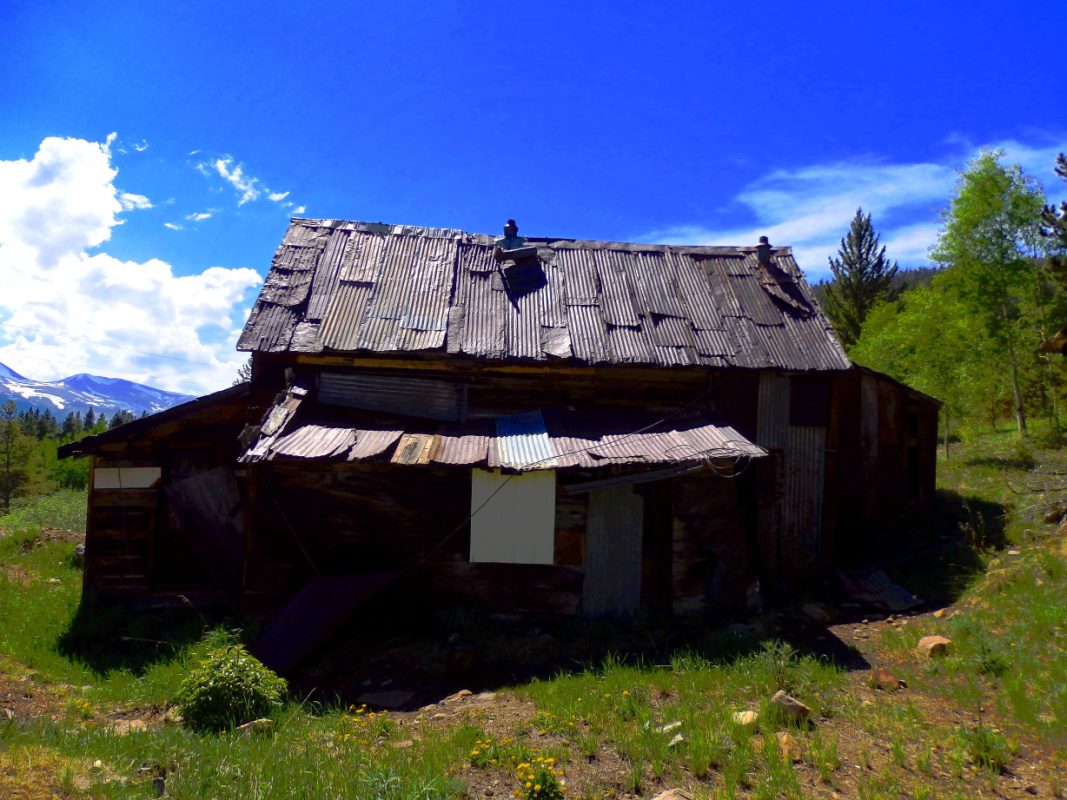 A cabin dating back to 1861 in the Lincoln City, Colorado near Breckenridge.
Another popular draw is Isak Heartstone, the famous and much loved 15-foot tall troll constructed of recycled wood and pallets by artist Thomas Dambo. Isak had to be moved from his original location to the present location near the Stephen C. West Ice Arena because "Its popularity was beyond all expectation," said Breckenridge town manager Rick Holman in 2019. Flash forward two years and a pandemic, and Isak is still drawing 3000 people a day during the summer and fall. The biggest challenge is keeping visitors on the trail.
And visitor numbers may only increase as the pandemic eases its grip and city dwellers are free to fleeing urban settings.  They will be seeking escapes in small isolated mountain towns with cooler temperatures, outdoor activities, wildlife sightings, and endless national forest opportunities.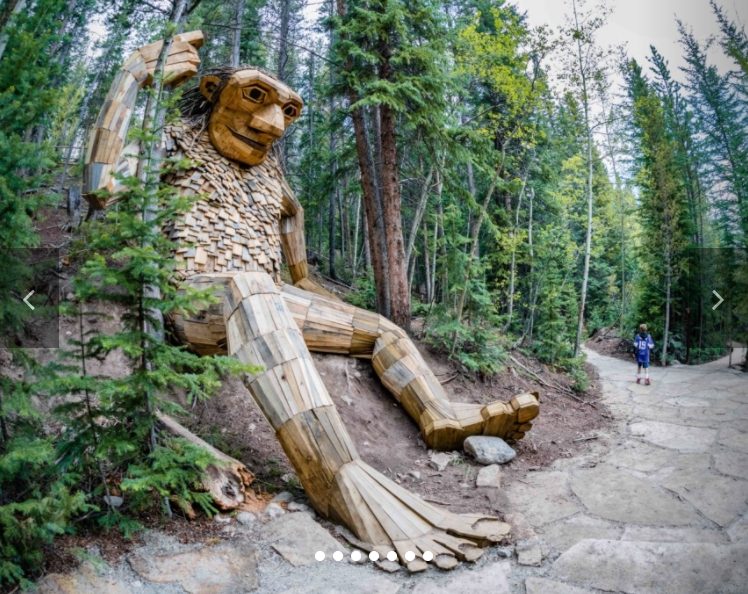 Isak Heartstone – wooden troll sculpture created by Danish artist Thomas Dambo. Photo by BreckCreate
We are not alone
Recreational areas across Colorado including county and state open space and national forest lands reported a 200 percent increase in recreation visits in the spring and early summer, says Kyle Patterson, Rocky Mountain National Park's public affairs officer.*
This leads to mile-long entrance station lines, overflowing parking lots, trailheads, and toilets. During the busiest hours, visitors experienced bottlenecking on trails and waiting in line at popular viewing points for Instagramers to get selfies.  In response, some land managers for popular national parks such as Rocky Mountain, Zion, and Yosemite have introduced a timed-entry permit system: Would-be visitors during the park's busiest hours had to secure a permit online (available starting a month in advance), with the park allowing only 60 percent of the previous year's tourist.
Vail Resorts used a similar reservation system for Breckenridge Ski Resort last season (2020-2021). This reservation system reduced crowds and allow extra physical distancing space on the mountain.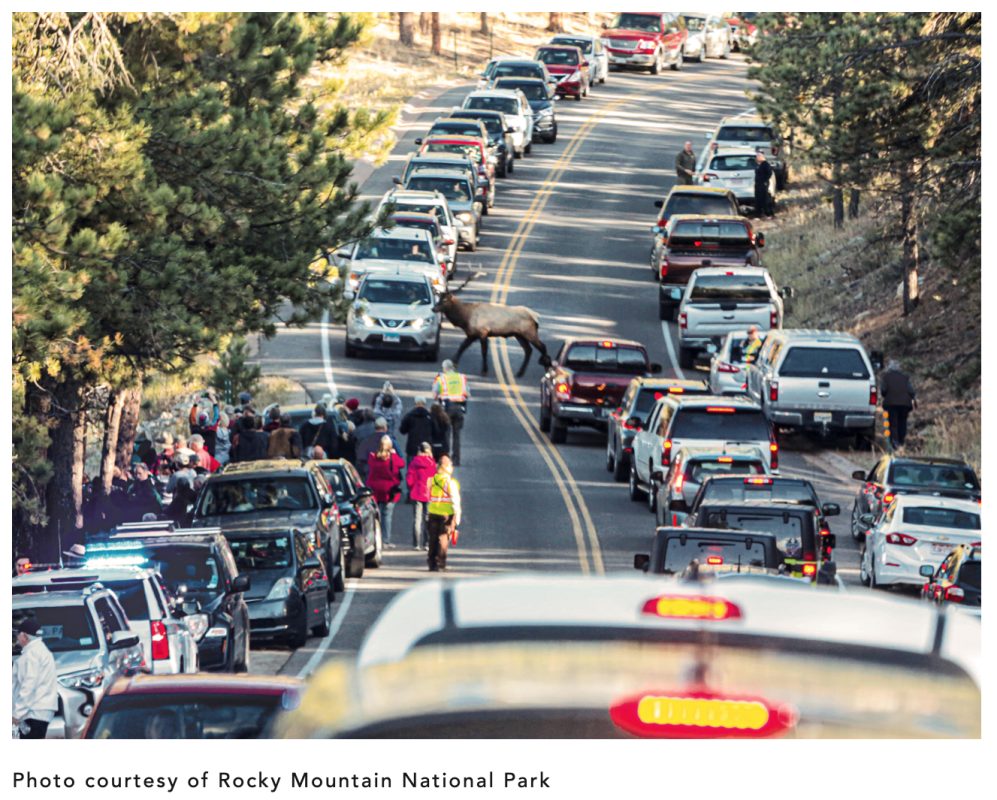 Is social media to blame?
It's tough to be certain that social media is to blame for your secret trail being overrun with selfie-hungry hikers, bikers, and weekend warriors.  Across the region, land managers and a few vocal Breckenridge locals do blame these platforms and location tags for outing certain trails, snowfields, and special viewing areas.
Social media isn't all bad
Park services around the country are launching social campaigns and media hashtags to get younger diverse crowds excited about lesser-known yet equally awesome locations and trails just a few miles away to combat crowds.  Boulder's Leave No Trace Center for Outdoor Ethics made social media restraint part of its philosophy with guidelines asking adventurers to "think before you geotag," consider omitting location details, and promoting Leave No Trace ethics. "We've been called out in terms of being gatekeepers," says Ben Lawhon, the center's education director, who adds the goal isn't to keep people off public lands, but rather to encourage good behavior when they go. "If every social media post had a Leave No Trace or stewardship message, we'd be in a better place."*
I caught up with Tony Overlock, Town of Breckenridge Open Space and Trails Specialist, and asked him about the increase in trail usage and how the town was addressing the issue. "We know they are coming; the town of Breckenridge's philosophy is to manage and still maintain the character of Breckenridge." "I don't see any restrictions in the future; it's more about management, education, and getting visitors to buy into the culture of Breckenridge."
Breckenridge Open Space & Trails and the Breckenridge Open Space Advisory Commission (BOSAC) are revising the Open Space and Trails Master Plan, which transitions the focus from acquisition to stewardship/management. 
"I don't see any restrictions in the future, it's more about management, education, and getting visitors to buy into the culture of Breckenridge."
The original Open Space and Trails Plan was written 20 years ago and was more about accumulating land and creating trails. Now Breckenridge has a lot of lands, and it's more about being good stewards of the land and trails and talking more about the management of visitors, trash, and facilities.
Conversely, stakeholders for the Quandary Peak Trail have initiated a study and survey to look at ways to improve the user experience. Every summer sees an increase in users and the trailhead parking overflows into the county roads. Stakeholders are considering a shuttle service and possibly, a reservation system.
Proactive educational components
New-user education is the biggest need.  Overlock suspects that most users are getting their information from platforms such as MTB project, Trailforks, and AllTrails.  The Town of Breckenridge Open Space and Trails focus is on how to tap into apps and platforms for education. Most recently, Breckenridge Open Space asked these apps to share trail conditions, e-bike restrictions.  On AllTrails, information on high traffic trailheads and suggestions on how to avoid parking issues was shared. The Breckenridge Open Space is also working with Summit County Mountain Bike Alliance (SCoMBA) asking trail ambassadors to help educate users.
Other educational components include educational trail signage that rotates throughout the trail system. Anne Lowe, the town's Open Space, and Trails Manager, and Nikki LaRochelle, a commissioner on the Breckenridge Open Space Advisory Commission, athlete, rider, and artist worked together to create the lighthearted, informative, and witty trail etiquette messaging in hopes it will help improve trail etiquette among various user groups.

Other challenges include increased wildlife impacts and run-ins with humans, dog poop, trash, and human waste, but not significantly. Trail user conflicts are rising, with most issues stemming from new users who are not educated on trail etiquette, yield, and right-of-ways.
Do your part
As Coloradans, we understandably have a feeling of ownership of our favorite "trails" and maybe more than a little annoyed at tourists stacked 3-wide on a single track or chatting side-by-side while Rover is running free to chase and poo at his leisure.  Let's face it, if we expect to have the B&B Trail to ourselves at 10:00 am on a Summer Saturday, we might be part of the problem.
So maybe act like a local – well, because you are one – and plan to ride your favorite trail off-hours or on a Tuesday after work or carpool. Or maybe ride your second favorite trail on those busy Saturdays and leave the popular easy-access trails for the visitors who are using up most of their vacation time for this single trip to Breckenridge.
Enjoy the Climb
_____________
* •  8 Ways to Ease Overcrowding in our national parks.