Know Before You Go: This scenic loop explores some of Summit County's historic regions including Sallier Barber Mine, a well-preserved structure perched on a ridge above French Gulch. expect traffic on the lower French Gulch Road, which is surrounded mainly by private land for the first few mines. Please respect all "No Trespassing" signs. Most historic buildins are private and fragile; please view from a distance. Beautiful stands of apsen in French Gulch make this a spectacular fall ride.
Description:
If you choose to ride French Gulch Rd. you will pass below the enormous Wellington Mine on the left at about 2.3 miles. Ride past the remaining buildings of the Lincoln townsite at 4.1 miles. You will pass the secondary trailhead parking. Then the road narrows, passing a fork to the Humbug Hill on the left (this steep jeep road accesses several riding option). Just beyond this spur, take Sallie Barber Road that forks to the right and drops down to a stream. Climb for roughly a mile to the high point and Sallie Barber mine. Continue on the main road, which descends a steep, rough section as it heads back toward Breckenridge.
The road finally levels and contours through the trees and connect with paved Sallie Barber Rd South. Follow that to road #520/Baldy Mtn Rd. at about 7.3 miles, turn just slightly right and descend for JUST A FEW FEET. Turn left onto a sighed Juniata Trail (which crosses private land so please stay on the described route), which take off into the trees just before the Juniata Subdivision. Follow this single track as it descends and becomes a double track. Respect all "No Trespassing" signs. Curve left and parallel the paved road until intersecting it. Cross right onto CR 503. Continue downhill, veering left at roads #502 and #500. Descending until intersecting with Royal Tiger Road. Turn right, follow the until connecting with Wellington Road. Turn right to return to your vehicle parking at Reiling Rd. and beyond or Left to Main St.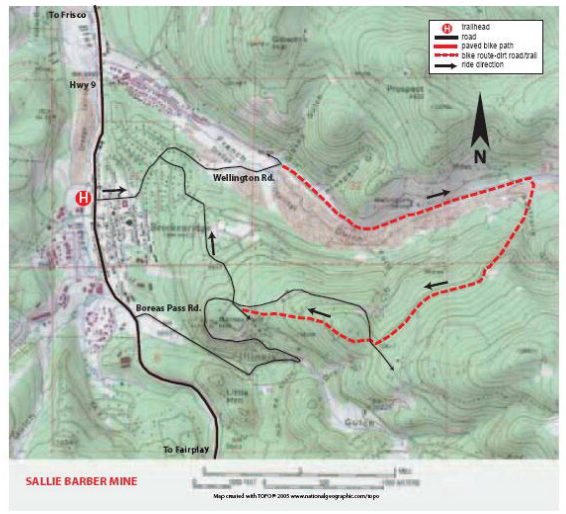 Parking:
From Main St. Breckenridge turn east on Wellington Rd. proceed through 2 4-way stops to the T Intersection of Wellington, French Gulch & Reiling Rd. There is parking to the left (on Reiling Rd.) of the stop (or for a shorter ride, turn right on French Gulch Road and proceed for 2.5 miles to the Trailhead parking area.)
Map & Information courtesy of Summit Daily, 2013 Bike Guide