May in Breckenridge means budding daffodils and aspen trees, bear sightings, road riding and most importantly, Mother's Day!  Happy Mother's Day to all you moms out there.  And for all you guys who need gift Ideas for those bike-crazy ladies in your life,  I found a few that would make me smile.
Giro Tessa Bike Gloves (love)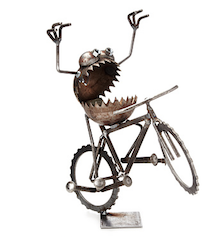 Bike Tire Belt with Roller Chain Buckle (cool)
No Hands Garden Sculpture (fun)
1 hour massage by Page Kunst at Breckenridge Massage & Acupuncture (wow!) 970.406.8123
The Breckenridge weather in May is simply bi-polar.  It changes its mood hourly from looming dark clouds, wind and slightly snowy to warm and sunny and then back again.  It's is just hard to know.  I tend to pack every possible piece of clothing with me when I ride … just to be safe.
May is muddy and a good rule of thumb is to stay off of wet and muddy trails. Always check Trail Conditions  (especially this time of year) before you head out for a ride.  We were happy to find that the River Trail was nice and dry.  The River Trail is a fun and easy trail along the beautiful Blue River. Easily accessed from the Breck Rec Path between Valley Brooke Rd. and Coyne Valley Rd.  It's a highly popular trail for pedestrians, fisherman and bikers.  So be aware of others.
If mud season is getting you down then head to the front range. It's spring down there with leaves on the trees, flowers blooming and trails to be ridden.  To jump-start my season, I committed to race the Beti Bike Bash (June 14th).   The largest women's mountain bike race in the country at Bear Creek Lake Park in Lakewood.  The Summit County Chapter of the Cycle Effect (a favorite) is the non-profit partner for this year's race!  The race is a big step for me, but I think a big motivator was signing up for the VIDA 1-Day Core Clinic the day before the race for tips and instructions from some ladies I respect.  Check it out and join me!
Finally, I have a special-share for you.  I sometimes take for granted what an amazing network of trails we have in Breckenridge.  Our trail network is hands down the best in the country.  It didn't just happen. "In fact, you could argue the collision of people, land and money that created the network makes a better story … " explains local journalist Devon O'Neil in the Bike Magazine article Peak Season. A featured link on the Bikenridge Trails page. So grab a cup of coffee, sit back and enjoy the read and the incredible photography by another local talent, Liam Doran.
As always, I appreciate you taking this time out of your day and your comments, suggestions are always welcome.
Enjoy the Climb,
Courtney
Feel free to share this useletter with your friends using the links below! 
— Everything Biking in Breckenridge 🙂