Gels, GUs and Energy Packs … If you are a long distance athlete you know exactly what I am talking about. They're sweet and stick, thick and often a messy distraction.  I have been looking for REAL alternative fuel sources for years. I am psyched to hear there are other like-minded athletes out there with a nutritional background that want to help.
Have you heard of The VIDA MTN Series?  Their fundamental mission is to improve women's experiences mountain biking. It goes without saying that skills instruction is a huge component of a positive trail ride, but many other factors come into play, such as properly set-up equipment and nutrition. In an effort to help women have more fun on their bikes, VIDA is hosting a nutrition seminar to educate female riders about the importance of effective fuel and hydration, and how they can personalize their riding diets to suit their individual needs. 
Join VIDA for a nutrition seminar this Thursday, April 30th, in Breckenridge, CO. VIDA Ambassadors Uri and Leigh will be present to answer all of your questions and share their knowledge on effective nutrition. They will also guide you through creating delicious homemade snacks to keep you fueled on the trail.
VIDA Ambassador Uriell Proft is a Registered Dietitian Nutritionist, and firm believer in whole, unprocessed foods to fuel health and performance on or off the bike. Uriell's goal is to give people a better understanding of the science behind how our bodies process food and hydration products so that everyone can begin to determine what works for them—she says there is no one rule that fits everyone's needs. This summer, Uriell will be working with Skratch Labs to provide athletes with nutrition support during the Amgen Tour of California and she will share her prior experience as a Skratch Labs nutrition support team member.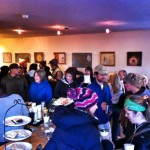 Where: Cuppa Jo 118 S Ridge St, Breckenridge, CO 80424
When: Thursday, April 30th, from 5:30-7:00 pm
Why: Proper nutrition and hydration are essential to feeling good, keeping energy levels high, and having fun while riding bikes.
Have questions about nutrition but can't make it to the VIDA seminar? Post your questions on our Facebook page or send us an email, info@vidamtb.com.
This is a free event sponsored by Cuppa Jo, Skratch Labs, and VIDA's Summit County Ambassadors. Refreshments will be provided. We hope you can make it and connect with other women in your community!