One recent Colorado afternoon, everyone was elated that the rain had held off for the race.  The temperature was dropping quickly as the sun set behind the mountains and racers, spectators and their families with colorful puffy jackets milled around, chatting and huddled together around the campfire at the Keystone Stables.  Jeff Westcott of Maverick Sports Promotions recapped the highlights of the Soda Creek Scramble with his usual entertaining awards presentation as the masses sipped beers and munched on BBQ.  When the Pro/Elite Women Winner was announced the smiling crowd gave a friendly "whoop! whoop!" of support for local favorite, racer Jaime Brede of The Cycle Effect.
When you see Jaime Brede the first thing you notice is that she is a mini mountain.  Oxymoron, I know, but she fits the bill.  Her big smile matches her giant character and all within a solid, super fit, tiny structure.  She is strong. The strongest she has been since she turned pro in 2011.  That same season, after a couple of strong finishes, she pulled her hamstring off of her pelvis and had to have it surgically reattached (ouch) and was, clearly, out for the season.  With her chin up and her motivating attitude, she patiently fought through the healing process and then 10,000 hours later she is back at the top of her game.
"I love racing and all of the characters involved." says Jaime and it shows. She finished 5th at the Xterra Mountain Championships in Beaver Creek on July 19th and is ranked 8th in the nation for Xterra American Triathlon Tour Series points.  Jaime says that her mindset has matured. Only 3 more regional races stand between her and the Xterra Nationals in Ogden, Utah in September.  She is focusing on the fun factor.  "It's more fun now then when I first started racing."  Whether it is a training ride, intervals or race day she views it all with a steady focus and lets the fun factor kick in when the race starts.
Racing is a contest of speed; any contest or competition, especially to achieve superiority.
Racing fuels the passion of competition.   Jaime Brede built a life around her passions and with creativity, support and desire
created a career out of those passions, but it isn't easy.  Living the dream takes hard work and dedication. "Unless you are competing at a world championship level, you are probably paying to play."
It's a team effort. Jaime looks down slightly and slowly shakes her head, then adds " If I had to deal with all the mechanical stuff too …" Jaime is referring to her biggest supporter and the Mechanical Division of her team, husband, Sam Brede.  Sam is the 9to5'r on the team and also an avid rider and competitor.  Jaime recognizes that being the "support" has its own stresses and requires sacrifice to make it all work. "I couldn't do this without him, he is my support."
"You piece it together."  And she does. Jaime's day job is as the Summit County Program Manager for The Cycle Effect where she has been coaching a team of young women in their first season of mountain biking. "Mountain Biking is hard!"  "I look at the big picture and am totally inspired by these women who have hung on since March."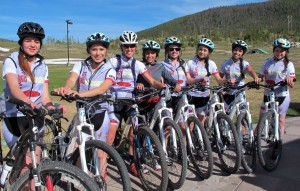 Jaime also coaches swimmers and other triathletes as well as has a history coaching kids in Maverick Sports Promotions'  Mountain Bike Junior League.  "There are SO many life lessons in mountain biking; I tell the girls, this sucks right now, but in 5 minutes it will be good."
When asked what a "perfect day" might look like she says "Sleep til I need to, coffee and croissants, MTB through aspen groves and wildflowers on pristine single track to high alpine lake, swim in said lake, ride home to a hot shower and post ride BBQ with friends and family with lots of good food and wine."
That sounds like a perfect day to me too.
For more information check out The Cycle Effect or contact Jaime Brede at jbrede@thecycleeffect.org.