Kerri Willis is from a small village in Suffolk, England where you won't find a lot of mountain bikers, but you will see pubs on most corners, markets every week, neighbors gossiping over the fences while gardening and tractors going down main roads.   Willis moved to Breckenridge two years ago from Colorado Springs after discovering the "lovely locals" and the endless trails.  "I can't even image my life without the trails now, I mean, winter has so much to offer too."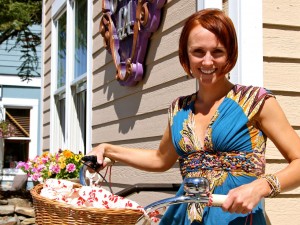 Not only is Willis an accomplished racer with six podiums just this season and rides for the Women's Naked Juice Mountain Bike Team, but she is also a seasoned Licensed Cosmetologist at SALON 424 in Breckenridge.  "Maybe it's the girl-power thing, but I love it."
"I honestly feel my purpose is to help inspire ladies into feeling good about themselves and to help inspire all to get fit. I also teach group exercise classes such as Spinning and Body Pump (endurance weight training) anything to get ladies/gents feeling good and have fun doing it" says Willis with a lovely english accent.
How long have you been Mtn Biking?
Hmmm not quite sure how long really, I started in my early 20s with a heavy heap of metal.  I got into racing about 5-6 years ago nothing hard core just as an outlet and racing just happened along the way.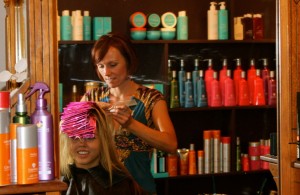 Your career as a cosmetologist and your love of active and sometimes dirty sports are completely different ends of the female spectrum … where does that come from? I've always been a bit girly making sure my toes look pretty to having my eyelashes tinted, and of course protecting the ends of my hair with oil before going out on rides.   You know the element wreak havoc on your hair/skin when you're outside in it all the time.  So I guess it just ended up that way, Mtn biking is so much fun and I'm not going to miss out on having fun just to look pretty all the time.
Are you busy at SALON 424?
I'm definitely building a solid clientele who are athletes both guys and gals.  It's awesome to we have great conversations. I have built some lovely relationships through it, not to mention I learn something new everyday whether it's to do with physical activities, diet and health or just life.  I love my job…..I used to think or remember hairdressers as being gossipy, full of drama and ladies outside the back smoking cigarettes.  Well that's just not the case in my world.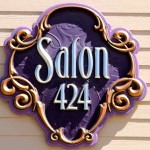 There is something kind of sexy about a pretty girl who is a tough Mtn Biker ….
Ha, yeah, I guess I never really thought of it like that. It isn't easy keeping up with it all especially the lovely collections of scars or odd tan lines us ladies get, trying to dress cute can sometimes be a little challenge.
What is your favorite part of Mtn Biking?
Most of all friends, group rides and maybe a beer after. I also love being out in the middle of nowhere and enjoying my surroundings along with getting a butt kicking workout.
What is the best advice you have ever been given?
If it's not fun don't waste your time doing it.
Enjoy the Climb …
Find Kerri at SALON 424 at 424 South Ridge Street, Breckenridge 970.453.4200