Looking for something to do on a day off of mountain biking? One of my favorite things to do is go to the Frisco Bike Park! It's free, it's exiting, and it's right in Frisco! Whether you are into the jumps or just want to mess around on the small features you will have a great time. Once you enter the park you will see a variety of features and things to do. At the bottom, near the parking there is a pump track. It is usually a good idea to warm up before you go to the bigger features. The pump track is perfect for just that. Get moving by doing a few laps around it. If you are feeling up to it, you can move up to to dirt jumps which are over past the pump track. Start out on the small line. If you are feeling good on them, move up and roll over the second ones. For these jumps it is a good idea to put your seat down as low as it will go so you do not get bucked around on the jumps. You won't need it anyway because you are standing up. Oh, and don't forget a helmet!  A full face helmet is preferable.
Yet another fun feature at the bike park is the slopestyle courses. Yes, the hike up is a bit hard but it is all worth it. The green "beginner" course is pretty chill and is fun to practice riding berms and pump your way down the flowy course. There no mandatory jumps on this course and it is great for anyone from beginners to serious riders. The blue "intermediate" course gets a bit more technical with some big jumps in it. The top section is fun with lots of wooden features and skinny bridges to ride over. As you get to the bottom it gets pretty big. With an optional four foot drop and some huge jumps, you may want to just roll over the features a couple times and then hit them (if you are feeling confident). There is also a big blue wood feature near the bottom that is fun as long as you are prepared for the steep and sudden nature of it. Then, there is the black (advanced) course. Unless you are super confident and know what you are doing you can probably skip out on this one. Although the first three or four jumps are not too big the course gets pretty crazy big near the bottom.
A day at the Frisco Bike Park can be really helpful to your cross country skills. You will feel much more comfortable on your bike and all around confident. Plus, it's fun!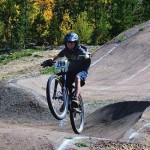 Henry Boyd is 14 years old and lives in Breckenridge, Colorado. He is a student at The Peak School in Frisco, Colorado. Henry is an avid cyclist & racer and a fan of the Frisco Bike Park.  Henry will be sharing his insight on kid-friendly rides, trails and other cycling activities in and around Breckenridge and Summit County.