I had the prettiest shoes at the trail project this weekend.  It wasn't on purpose. It was the result of a spring cleaning effort to clear out the old and bring in the new.  So all I had to wear were my pink & yellow running shoes.  I thought to myself, the day will be a little brighter. I pack my backpack with necessities, my camera and was out the door at 7am to meet up with friends for our day with the Volunteers of Colorado (VOC) crew.
The VOC, Friends of Breckenridge Trails and Summit County Open Space come together each year for a trail project in Breckenridge.  This year, it was the extension of Turk's Trail to the Sallie Barber Trail. It's a scene!   There was already a crowd of people  huddling around steaming coffee cups, a steady line of takers for breakfast of bouncy scrambled eggs, fluffy biscuits and thick gravy.  There was a dull roar of conversation as volunteers chatted about the weather and the upcoming day.
If you want to socialize and hang out with a good chunk of the local cycling crew then attending a VOC trail project is in your future.  It's better then going to a party.  Most everyone you want to see is there! You will also meet other like-minded outdoor types that make a summer out of traveling around Colorado for trail projects.
We were assigned our crew and headed to the Reiling Dredge Trailhead.  We grabbed tools and gloves and started the hike to our section of the new trail.  The pace is relaxed and steady. I float in and out of my thoughts with the hum of chatter and laughter in the background.  The recent rain has made the forest a deep dark brown and electric green.  You can see Mother Nature's handy work as a decorated old stump with bright green sprouts melted into the duff of forest floor. The pine trees heavy with dew, beg for your attention and then spray tiny showers of dew as you pass by.  The trail is still very dank, packed down and bit spongy in spots, but a cushy road for our travels.
The culture is very unique. Most everyone present is psyched to be here and ready for a day of hard labor.  Pickaxe, mcclouds, shovels, buckets and, my favorite, the Pulaski are the tools of choice.  The Pulaski is a special hand tool used in wildland firefighting and invented by an assistant ranger to the US Forest Service, Ed Pulaski, in 1911. It combines an axe and an adze in one head and works well for trail construction too.
The new extension of Turks Trail has some amazing features. The new trail was designed by Scott Reid, Tony Overlock of Breckenridge Open Space & Trails and Brian Lorch of Summit County Open Space & Trails. They started the process of laying out the trail last fall.  Many hours were spent debating the trail alignment and then designing features to navigate the challenging gullies, dredge piles and degree of slope to create a trail that could be enjoyed by hikers, bikes, runners and cross country skiers of all ability levels.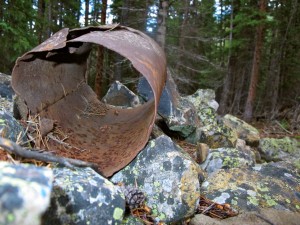 The trail meanders through the flumes and glory holes and if you look closely you will see relics from the gold mining days displayed.  Rusted metal, sardine cans and metal buckets are tiny shrines to Breckenridge's mining history.  In fact, I suspect that locals will lovingly nick-name this trail, the bucket trail, because of all the old metals buckets found and displayed along the trail.
The features include rolling turns and switch backs through piles of dredge rocks, creek crossings, tight single track sections and boardwalks.  It will be a steady, heart-pumping climb to Sallie Barber if you enter from the Turk's Trail side and a super fun down hill from Sallie Barber, but it gets a little tight, so be aware.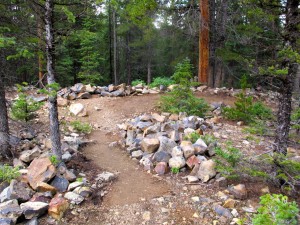 After we finished our section of the new the trail and I named my tree of remembrance, we headed to another section that required the construction of two complicated rock wall features. As a rider, you may not even notice these amazing creations as you roll up and around the corners, but these features required a lot of effort.  300 pound rocks were specifically chosen by volunteers in the dredge rock piles and hauled at least 100 yards by a few very strong young men.  More then 20 people united for a "bucket train" in order to move an enormous amount of fill dirt from the "dirt pit" at top of dredge rock mound to the rock-wall section.  It was amazing to me how much dirt was needed to create this section of trail and the spirit of cooperation was inspiring and made the job fun!
My arms and shoulders are a bit sore this morning, but I feel great about the effort and will ride Upper Turk's Trail with pride and a sense of ownership now and in the future. I highly recommend you have your own experience with your family & friends. Make it a day or weekend activity while visiting Breckenridge and volunteer for one of these great organizations Friends of Breckenridge Trails, Volunteers of Colorado, Summit County Open Space and the Friends of the Dillon Ranger District.
Enjoy the climb.