The excitement is building in Breckenridge for the 2015 USA Pro Challenge in August.  An estimated 50 riders from all over the country joined in to ride the Breckenridge Pro Challenge Community Ride on June 21, 2015, with Former Pro Timmy Duggan and led by Nick & Sydney from Breck Bike Guides.
Winners of the VIP pass giveaway were Grant Hall of Denver won two VIP passes to the Stage 4 Finish in Breckenridge on Thursday, August 20th and Jeff Westcott to the Stage 5 Time Trials on Friday, August 21st. The sun was warm and it truly felt like summer as the riders streamed onto Main Street and headed North toward the Breck Rec Path.  The chatty pack of riders cruised North on the Rec Path to Frisco, stopped at the Frisco Marina to regroup and then pushed around the Lake Dillon.  The lead pack enjoyed some friendly competition and charged to the summit of Swan Mountain.  At the top, Sapphire Point, the pack regrouped, rehydrated and then everyone enjoyed the fast decent down to HWY 9 and back to the Rec Path.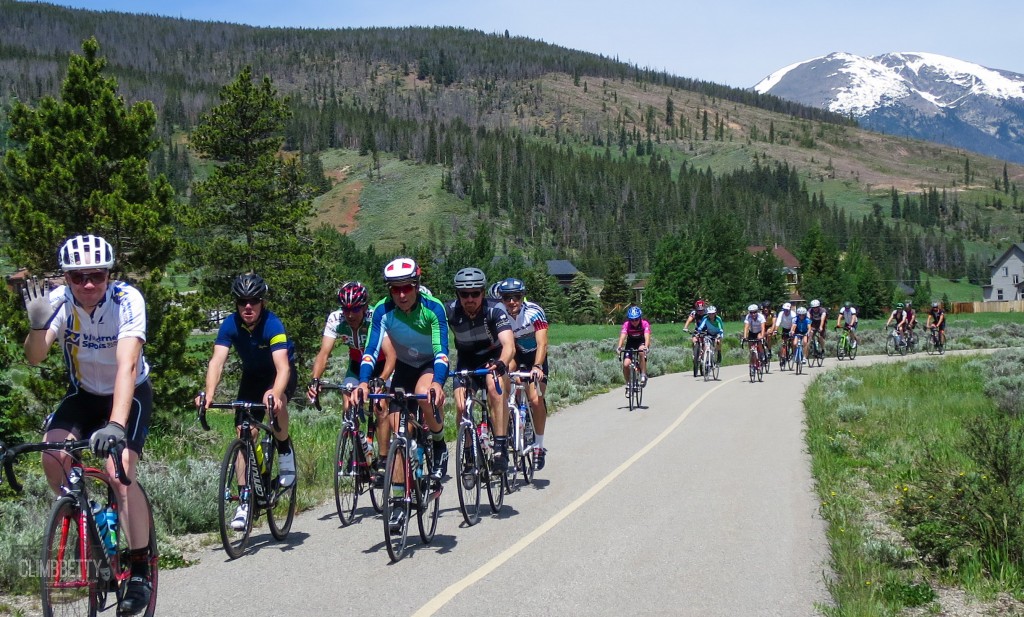 Jeff Westcott, Maverick Sports Promotions, summed up the final grunt back to Breckenridge, "pedal for pedal, these last couple of miles are some of the best exercise you can get on a bike."
Once in Breck, an elite pack of 15 or so rider attacked the Moonstone climb and prevailed!  Congrats!  A BIG Thank you to all the riders who participated, Timmy Duggan, Nick & Sydney of Breck Bike Guides, the Breckenridge Local Organizing Committee and USA Pro Challenge for bringing it all together!